I've been on YouTube since early 2018, and launched multiple channels, trying many different strategies and topics. 6 of them hit the 1,000 subscribers mark.
Find out how much it took each to get there, and what moved the needle.
How Long Does It Take to Get 1,000 Subscribers on Youtube
In a study examining 6 YouTube channels launched between 2018 and 2022, it took an average of 254 days to get 1,000 subscribers, and a median value of 227.5 days. These channels had 36.33 videos posted on average, and a median of 30.5 videos posted. Read on for the full breakdown.
Analysing How Long It Took These 6 Channels To Get 1,000 Subscribers
Channel 1: Lifestyle > Collectibles
This channel talks about collectibles in the men's fashion niche.
Key facts
The channel hit 1,000 subscribers in 129 days
Before that date, I posted 59 videos – that's 1 video every 2.19 days on average
Only one video was responsible for 75%+ of these subscribers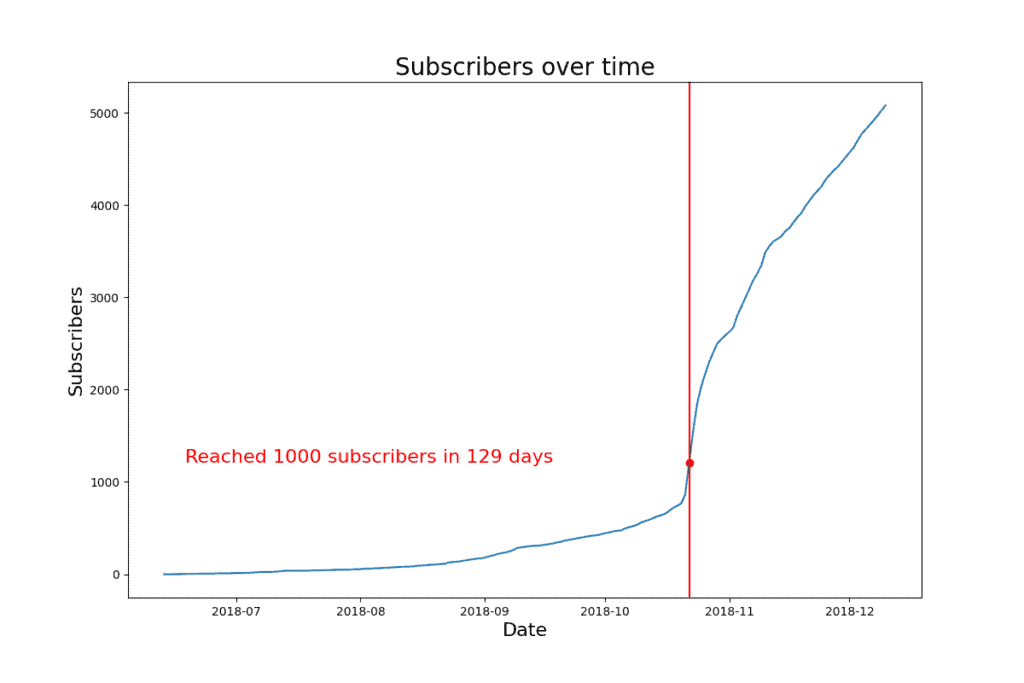 This is one of my first YouTube channels ever, and I was very upset that it took so long to get 1,000 subscribers with so many videos.
The reason why is simple.
Before the video that blew up, I was posting content that I thought was interesting.
In retrospect, 80%+ of it was not.
Then I took a deep dive into the comments of my videos and my competitors' videos, and I noticed that people were always talking aout a specific brand in the niche.
I made a video about that brand, and 2 days later, I hit the 1,000 subscribers milestone. You can clearly see that on the graph above, when it goes vertical – that's that one video.
At about the same time, that channel hit 4,000 hours of watch time, so I immediately applied for the YouTube Partner Program. Back at the time, it took about 2 months to be reviewed and accepted, but that's another story.
Channel 2: IT > Saas
This channel is all about online business tools (SaaS) and online IT stuff (think DNS servers, email system setup, …).
Key facts
The channel hit 1,000 subscribers in 554 days
Before that date, I published 7 videos during the first 2 months of existence of the channel – that's 1 video every 79.14 days on average for the whole period (but about 1 video per week if we only take the initial 2 months period)
4 of the videos accounted for 83%+ of these YouTube subscribers, with one contributing to 42.1% overall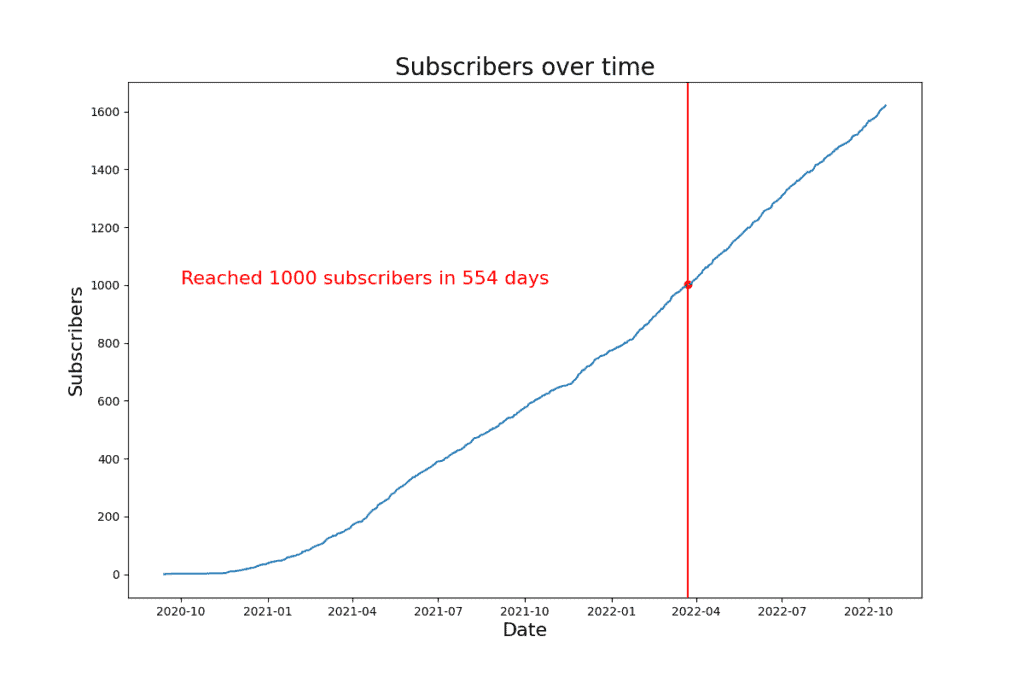 Even if it took a very long time to reach 1,000 subscribers on this one, this is probably the most interesting channel of the bunch.
I uploaded 7 videos over (not even) 2 months, and then I completely forgot about the channel – that was the strategy from the very beginning.
I didn't even have to make any kind of keyword research: I knew people were searching for that content from one of my other channels (see channel 6 below).
So, I just uploaded some quality content, and let the YouTube algorithm do its thing.
Next thing you know, I have a channel that earns $200+ like clockwork every single month, without me posting consistently for months on end.
Channel 3: Entertainment > Technology
This is an experiment on YouTube Shorts, kind of a hack to get to 1,000 subs fast. And it worked.
Key facts
It took 19 days for the channel to get 1,000 subs
Before that date, I posted 3 videos and about 80 Shorts – that's one video / Short every 5.49 hour
Only one Short accounted for all (!!!) of the subscribers, in 2 days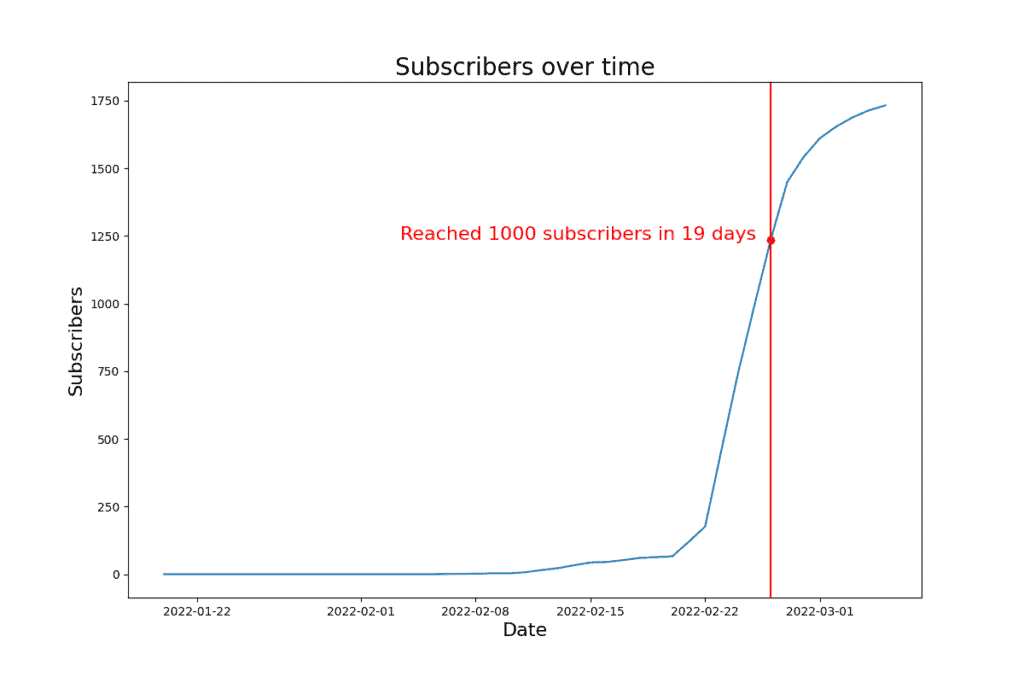 That one Short was picked up by YouTube after around 5 days after I uploaded it, it went viral, and got 5.2 million views (and 28.7k likes).
You can clearly that huge spike in subscribers, in the span of 2 days.
Why that one?
I don't know. I posted the exact same Short 7 other times (3 before, 4 after), and the second one to get the most views only gained 15.2k views – we're talking about a 342x difference here!
The reason I uploaded the same Short multiple times is to challenge the assumption that the algorithm is as clever as new YouTubers want to believe it is.
It's clearly not.
Keep that strategy in the back of your mind though – Shorts are an excellent way to grow a YouTube channel, and they will be monetized starting February 1, 2023 too!
Channel 4: Music > Reactions
I searched for new (or popular) music videos, and I reacted to them on a brand-new YouTube channel.
Key facts
The channel hit 1,000 subscribers in 114 days
Before that date, I posted 32 videos – that's 2 videos per week, like clockwork (I scheduled them in advance)
Only one video accounted for about 50% of the subs at that date, bringing in 2,000 more subs in just about a month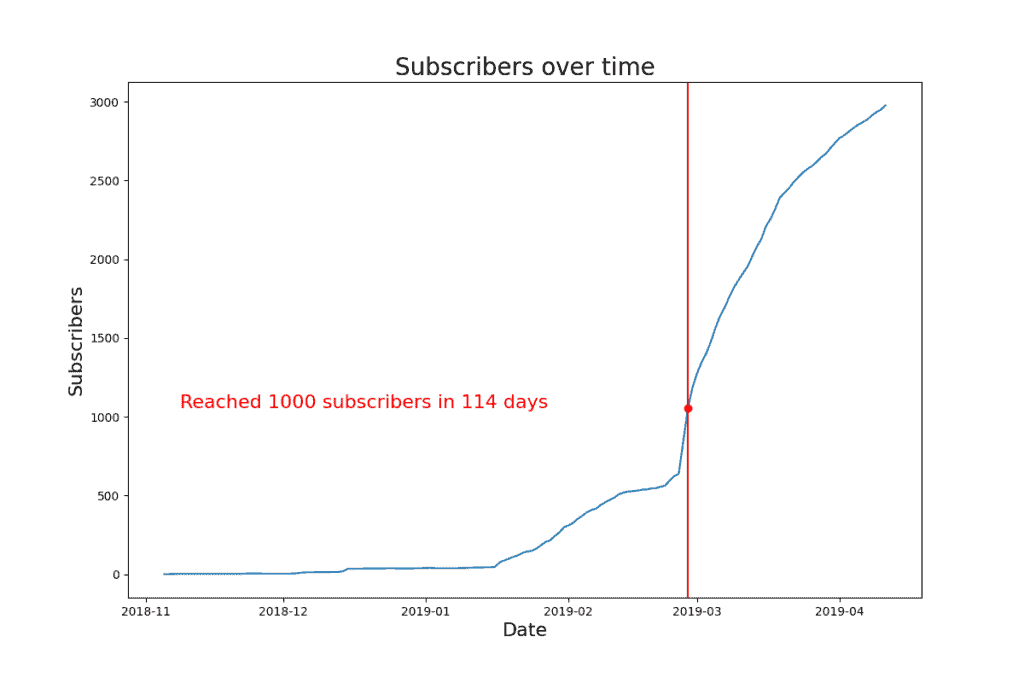 Even if I managed to get 1k subscribers pretty easily, I would not advise you to start a music reaction channel.
The reason is: it's super hard to monetize.
If you're lucky, your videos will get a copyright claim – meaning a part or the totality of your revenue will be perceived by the rights-holders. Most of the time, as soon as you upload them to the platform. If not, during the following weeks / months.
If you're not lucky, you can get a copyright strike (because some rights-holders don't like their music being analyzed / criticized).
3 copyright strikes, and your channel is terminated.
And sure, you can still try to make it work by using tracks from Creator Music, but the feature is only available in the U.S. for now, and is not even rolled out yet.
There are other ways to make money on YouTube, so I would move on.
But you do you.
Since then, I pivoted the channel to something entirely different, taking advantage of the fact that monetization was already enabled on it.
Channel 5: Finance > Trading
This channel is about trading, more specifically crypto trading, and it's not in English (all the other channels are).
Key facts
It took 382 days for the channel to get 1,000 subs
Before that date, I posted 5 videos and 3 Shorts over the course of 11 months – that's one video every 41.25 days on average
2 videos accounted for about 53.5% of the subs at that date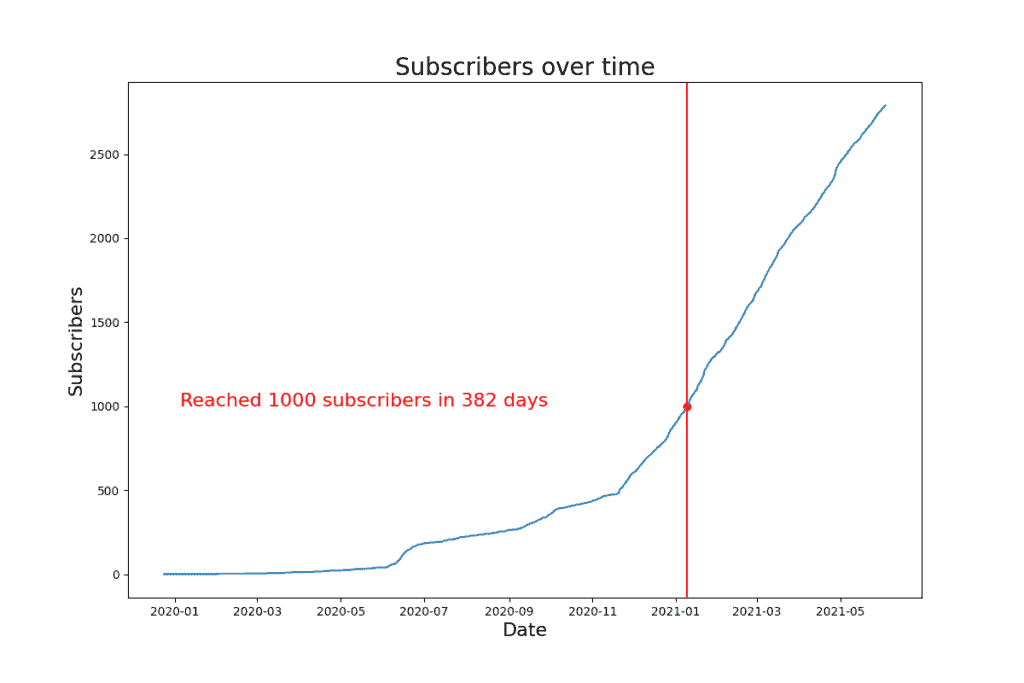 On the graph above, you can clearly see 2 bumps.
The first one is when I posted 3 videos (in June 2020).
The second one is when I posted 3 Shorts and 1 video (late November 2020).
So I didn't post videos every 41.25 days exactly, I batch uploaded them when I had the time to do so (this was a side project).
But if that isn't an illustration that more videos = more views = more subs, I don't know what is.
While it took me a bit more than a year to get 1k subs on this one, it's a good example of:
slow and steady wins the race
market research and keyword analysis is paramount
Channel 6: Digital Marketing > SEO
On this channel, I talk about how to grow an online business using WordPress and SEO.
Key facts
The channel got 1k subscribers in 843 days
Before that date, I uploaded videos that were not in the same niche
1 video brought in about 500 subs, at which point I took the video down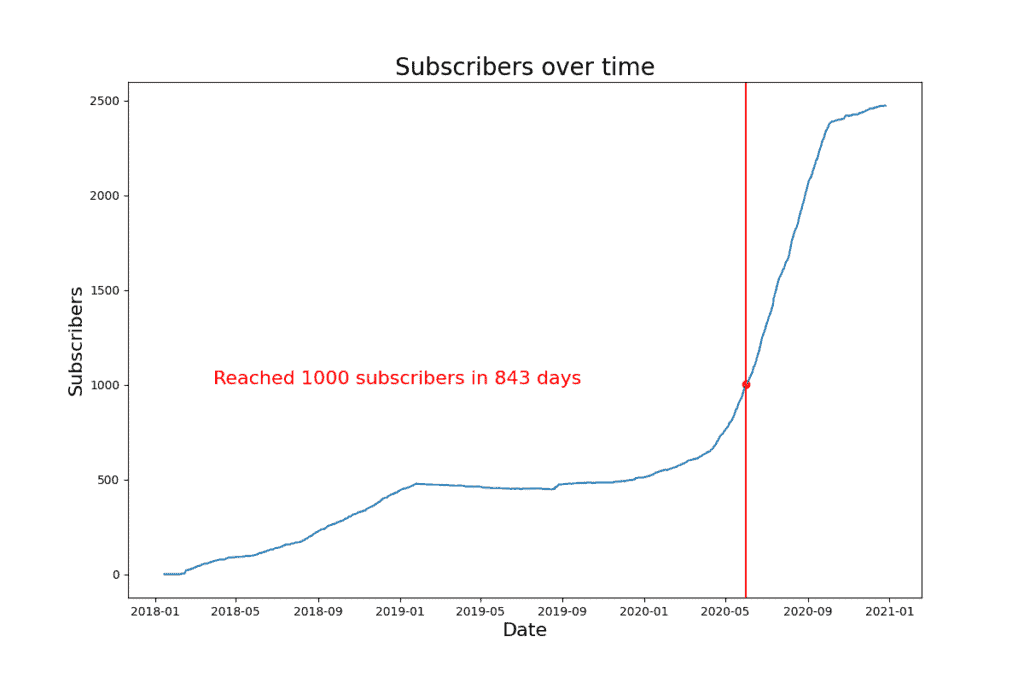 What the hell happened to that channel?
This was my first channel ever, and I uploaded everything and anything that I was thinking about.
The channel had no clear topic, and as such, no clear purpose.
The video that got 500 followers was a video of me playing the piano…
But then I thought: if I make videos that people are searching for, I can get traffic more consistently, right?
You bet. Look at this: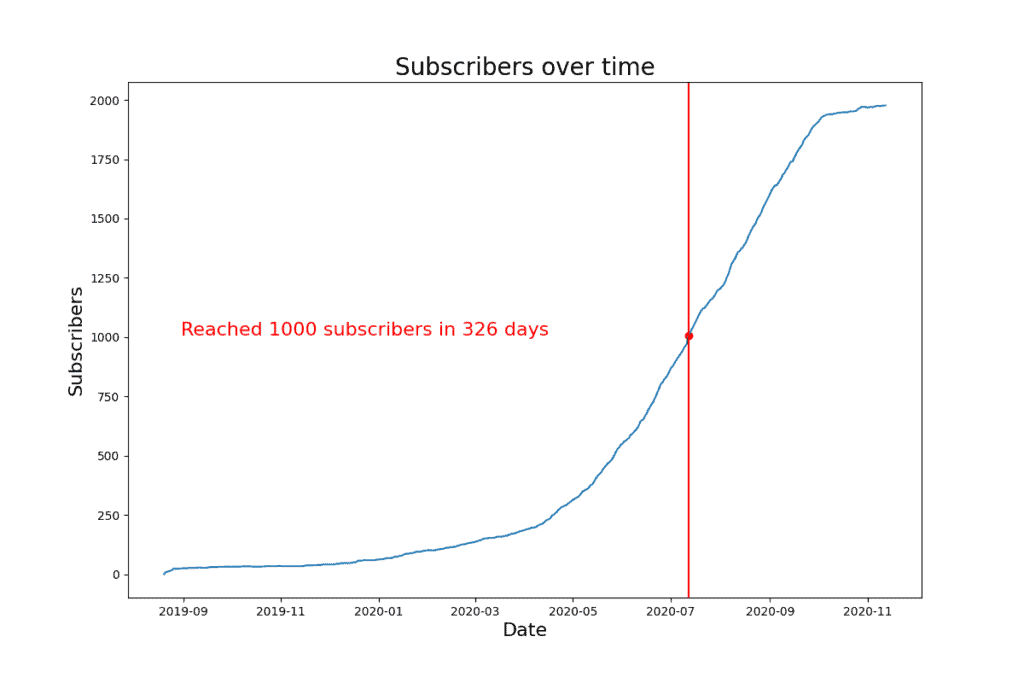 After I made private every video I had on the channel and started posting only about digital marketing, you can see a graph that is much more in line with what we've seen before.
Namely, once I sorted my channel strategy and content:
It took 326 days for the channel to get more 1,000 subscribers (I'm discounting the initial 500 subscribers I already had)
Before that date, I posted 29 videos – that's one video every 11.24 days on average
1 video brought in 55.4% of the subscribers during that time
The interesting part is:
I spotted some closely-related keywords / topics that got quite a bit of searches, with a great RPM.
So, I used the data from this channel to start a more niche channel (channel #2 above).
And it worked.
This channel also gave me hope that I could make money on YouTube, and it was the spark that lead to all the other channels above, and 5 figures on YouTube in revenue since 2018.
Not too shabby.
But also, it gave me the confidence to start new things and pivot any channel at any time, if I need to.
Key Takeaways
Obviously, every channel is different. and there are many factors that will play in your channel growth. Some will grow in a matter of days, while others won't be able to grow before months or years.
But we can still analyze what the data above is telling us as creators:
You can grow any channel in any niche – the topic doesn't matter. It may take you two years to get there, but it will happen (granted you have a solid growth strategy)
Uploading videos regularly is not a requirement to get 1,000 subscribers, as you saw with my channel #2, but…
If you want to get subscribers faster, post more often. You'll substantially increase your chances of getting views.
You can get 1,000 subscribers in less than a month: publish Shorts as often as you can. 1 per day would be ideal, but don't be afraid to experiment. This is not guaranteed though because…
You have to do your due diligence when it comes to market research (are people searching for what I create?) and keyword research (what are people actually searching for in my niche) if you want to succeed on YouTube
You can always pivot a channel. I did it 2 times (channel #4 and #6), and I could get both channels to get views and subs again. It's slow, and it's not easy, but it's feasible.